Staff
Our dedicated staff members are here to provide support, compassion, and information to help you through your journey of grief and the celebration of your loved one's life.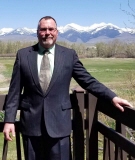 Robert Williams
Owner and Funeral Director
Bob was born in Butte Montana in 1960, he is one of six children. The son of Butte America natives Jean (Sweeney) and Ralph Williams. In 1968 the family moved to Missoula, Montana. Bob worked in the timber industry for almost 20 years. In the mid 80's early 90's the timber industry took a turn for the worst. Timber sales were getting harder and harder to secure (that darn spotted owl), saw mills began closing down. Bob and his wife Judy (deceased in 2002) and their daughter Sarah (six years old at that time) sold their home in Thompson Falls, Montana and moved to Portland, Oregon where Bob began mortuary school, working towards his second career as a Mortician. After graduating from Mount Hood Community College with a degree in Mortuary Science, and spending most of his 20 plus years as a Mortician in Billings, Montana, he is thrilled to be back in the trees and mountains of Idaho helping the folks of Lemhi and Custer Counties.